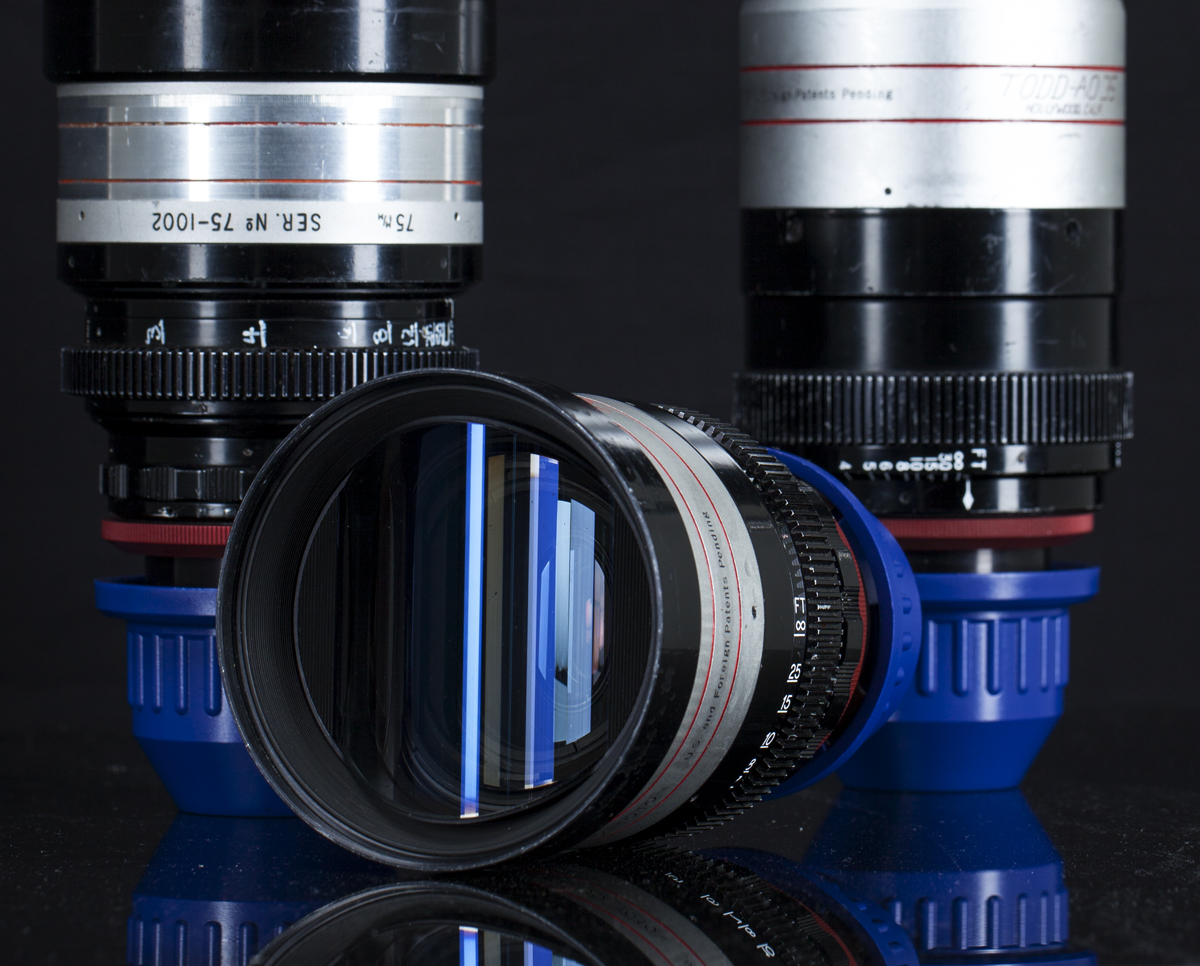 TODD AO ANAMORPHIC LENSES
These have excellent flares, stunning unique warm color rendition, and great sharpness due to the primes used.
THE HI Speed LENSES ARE RECCOMENDED TO BE SHOT AT AT LEAST T1.4-2 SPLIT DUE TO THE SUPER SHALLOW DEPTH OF FIELD AT 1.4. THE 85mm, DUE TO ITS LARGE FRONT ELEMENT AND ASPHERICAL DESIGN, IS RECOMENDED AT T2.3 MINIMUM.
Available Lenses:
todd-AO high Speed 35mm T1.4 PL mount (canon K-35) 8lb CF 2ft 7.75″ 130mm front
todd-AO / Ultrascope 40mm T2.2 PL mount ( cooke panchro) 4lb CF 3.26ft 5" 118mm front
todd-AO Std Speed 50mm T2.3 PL mount ( cooke panchro) 5lbs CF 3ft 6" 103 front
todd-AO high Speed 55mm T1.3 PL mount (canon K-35) 5.25lb CF 2.25ft 5.5″ 95mm front
todd-AO Std Speed 75mm T2.3 PL mount ( cooke panchro) 5lbs CF 3ft 6" 103 front
todd-AO Macro 150mm T4.0PL mount ( cooke panchro) 5lbs CF 1ft 7" 84 front
todd-AO Macro 200mm T4.0 PL mount ( cooke panchro) 5lbs CF 1ft 7" 84 front
The following lenses ( 40, 50, 55, 75, 150, 200) can be used with the LMB-25 clip on mattebox using 110 or 134 backs and delrin split rings
We also have 138mm Clip on filter stage holder for the high speed 35 lens
Also available:

Cooke 50-500 T4.5 Anamorphic Zoom
Kowa 200mm T2.8 Anamorphic Macro